Landcare Web Design
Below is a list of clients we have worked with in the Landcare industry. Please contact us for an obligation free discussion about how we can help your business. We pride ourselves on providing an effective online presence for you with ongoing support.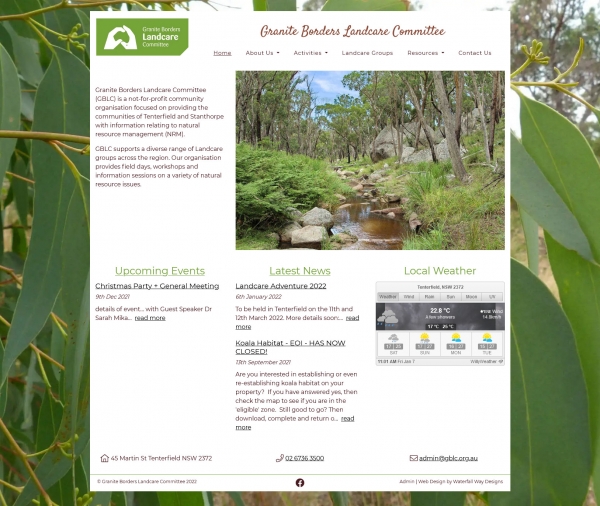 Granite Borders Landcare
7th January 2022
Granite Borders Landcare Committee is a not-for-profit community organisation focused on providing the communities of Tenterfield and Stanthorpe with information relating to natural resource management.
We did their original website back in 2014. In 2022 they signed up to our monthly DIY Website Package to make sure the website stayed up to date with technology and their customers needs.
www.graniteborderslandcare.com.au
Gwymac Landcare
7th September 2018
Gwymac Landcare coordinates landcare groups across the Macintyre and Gwydir catchments. Gwymac Landcare is a non-profit, community owned organisation, providing a free service to the community, run by a volunteer committee.
Gwymac Landcare chose Waterfall Way Designs to host their existing website in 2011. Then in early 2013 we completed a new website for them to make it easier for them to update. In 2018 we did another website for them to make it mobile friendly and fit their current needs.
www.gwymaclandcare.com.au